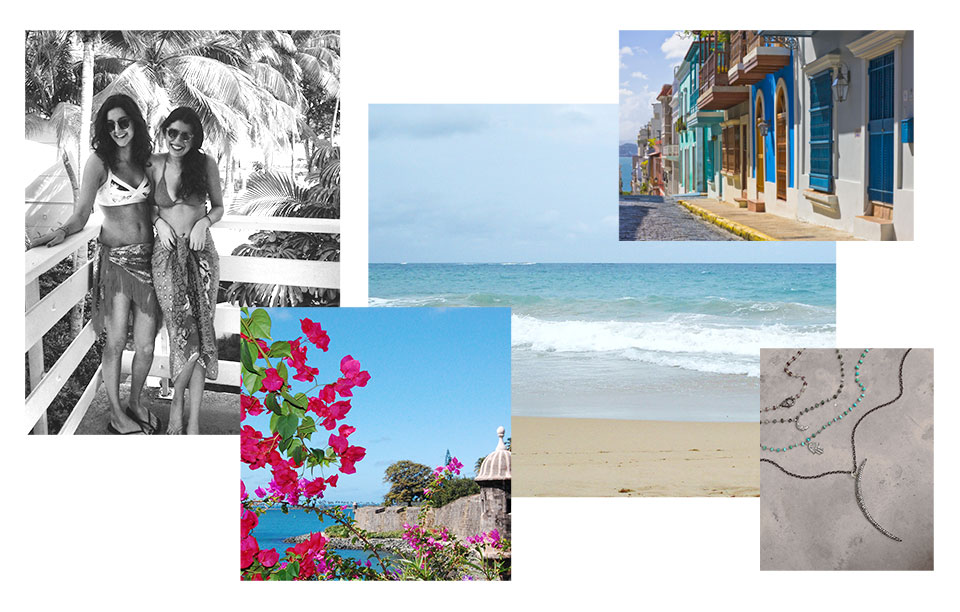 Pamela Mufson, founder of the New York-based jewelry line Ela Rae, shares travel tips on her personal getaway in San Juan, Puerto Rico.
Ela Rae is…
A contemporary jewelry line fusing uncomplicated luxury to a refined-bohemian aesthetic.
And the story behind the name…
Ela Rae is derived from my first and middle name, Pamela Ra(e)chel. Customers always ask my business partner (and best friend) Tamar and me, "Who is Ela and who is Rae?" Ela Rae is a lady who is both bohemian and modern. She is a collector who effortlessly pulls together family heirlooms and jewelry picked up from her travels to create a layered look. Her jewelry captures her individuality while acting as her very own personal armor.
San Juan is my getaway because…
It has been a getaway spot of my family since I was a kid. It is close enough to go for just a few days, yet feels like you've traveled to another country. You can always expect great weather in the fall and winter — making it a perfect place to escape the harsh New York winters.
And how the city inspires my collection…
Both Caribbean and Spanish Culture influence San Juan, making it vibrant in color and rich in history. We sourced some of our favorite beads from our very first collection in the little shops of Old San Juan.
San Juan packing essentials…
My favorite bikinis, sundresses, and of course lots and lots of jewelry… Some of my favorite pieces to travel with are the Winonah cuff, Nori Anklet, Multi Choker and Sienna Earrings.
During the day I recommend…
Enjoying Caribbean cocktails on the beach
And at night…
We usually head off from the beach early one day during our stay to spend the early evening in Old San Juan. There are great vintage jewelry stores and small boutiques to wander into/explore.
The local eats and best places to find them…
Marmalade is one of our favorite spots for dinner, located on Forteleza Street in the old city. It offers an eclectic menu featuring farm-to-table ingredients. The menu is constantly changing, making every visit a new experience.
The cocktail to drink to be mistaken for a local…
Watermelon sangria is one of my favorite San Juan cocktails. The best I've has is at Aquaviva in Old San Juan.
No visit to San Juan is complete without…
A visit to the old city to explore, shop and eat.