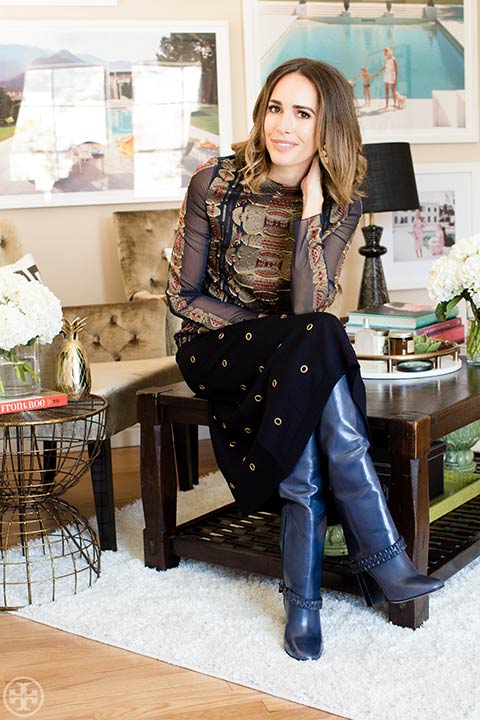 Lifestyle and beauty blogger Louise Roe's book, Front Roe: How to Be the Leading Lady in Your Own Life, is brimming with advice about everything from keeping your skin looking fresh (hint: it requires something found not in a pharmacy but on a tree) to attaining a good work-life balance (in this area she subscribes to some hard and fast rules when it comes to social media). Here, wearing Tory's jacquard top, grommet long skirt and Sarava boots, the L.A.-based Brit tells us how she chose her book's catchy title and shares the piece of wisdom that inspired her to pursue her dreams of becoming an entrepreneur…
I wrote this book because…
I have always wanted to write a book — I actually began collating notes when I still lived in London… eight years ago! The most popular part of my blog is Ask Louise, where people can write in asking anything. I wanted there to be one cohesive place where I could share everything I've learned from the fashion and beauty industries, over the last decade.
To "be the leading lady in your own life" means…
The more women I worked with on makeover shows, or interview, the more I realized that our confidence levels aren't always where they should be. We can be very hard on ourselves as women, and even though we wear a cute dress or great heels, we somehow often feel like the girl next to us looks better, or that we should be more successful at work, or that we could be a more dedicated mother, or a better wife. I wanted to address that issue in Front Roe. I wanted to delve into the idea that the way we dress is directly linked to our confidence levels, and suggest some practical ways to take the reins and put ourselves first in life.
When women ask me what it takes to succeed, I say…
It's important to balance ambition and focus with a sense of perspective. Family, friends, travel — all those things sometimes take a backseat to your working on a major project or launch, but it shouldn't for long! I think it's also crucial to figure out what "success" means to you — it's very personal. And once you meet a goal, pat yourself on the back and soak it up before moving on to the next thing. For me, writing a book was a lifetime ambition fulfilled and I wanted to enjoy the process of writing it, not just rush to the finish line.
Best business advice received…
My dad is a fantastic business mentor. He's an entrepreneur who went after all his dreams and created a brilliant career where he got to travel, have fun and do well. He said to me, when I was little, "If you can wake up and look forward to whatever work you're doing, then you'll never work a day in your life." He also says, "Nobody ever wrote on their grave that they wish they spent more time in the office," so I try
to remember that when I'm still at my laptop past midnight!
And when it comes to personal advice…
My mum is so great with life advice — she always knows the right thing to say. I remember getting freaked out before I moved to L.A., thinking what if I fail and get eaten up by this scary big city. She just smiled at me and said, "So you come home, no big deal." It was the simplicity of this kind of permission to let things be that took all the pressure off.
And best beauty advice…
So many nuggets from different makeup artists and hair stylists, a lot of which have made it into the book. Looking after your skin from the inside is a biggie, knowing which ingredients from your diet can really clear and plump up the skin is key. Avocado is my number one!
Advice I'd give my younger self…
Don't worry so much.
Key to balancing career and personal relationships…
Putting phones and computers away before dinner. It's hard, but I'm working on being more present once the work day ends. And planning lots of fun trips — even just day trips — with your loved one is awesome. I love discovering new places together. Of course, then I can't help snapping a few pics for my blog, so work and personal relationships end up crossing over a little!
My style is…
Fairly laid-back. Living in L.A. with the hot weather, I like to wear loose silhouettes in light colors, lots of blush, grey, cream. But I love a high-waist ripped jean to add a more urban feel, too. And always a great shoe! That's the key to a chic outfit, in my opinion.
My style icons…
Women who had their heyday in the 1970s: Ali MacGraw, Talitha Getty, Lauren Hutton. So effortless.
My latest fitness obsession…
SoulCycle! I was so bad in my first class and determined to master it. I kept going back until I could go a full class without stopping (and almost falling off the saddle!). There's a cool sense of camaraderie in there and you sweat buckets. Best way to cure a hangover too.