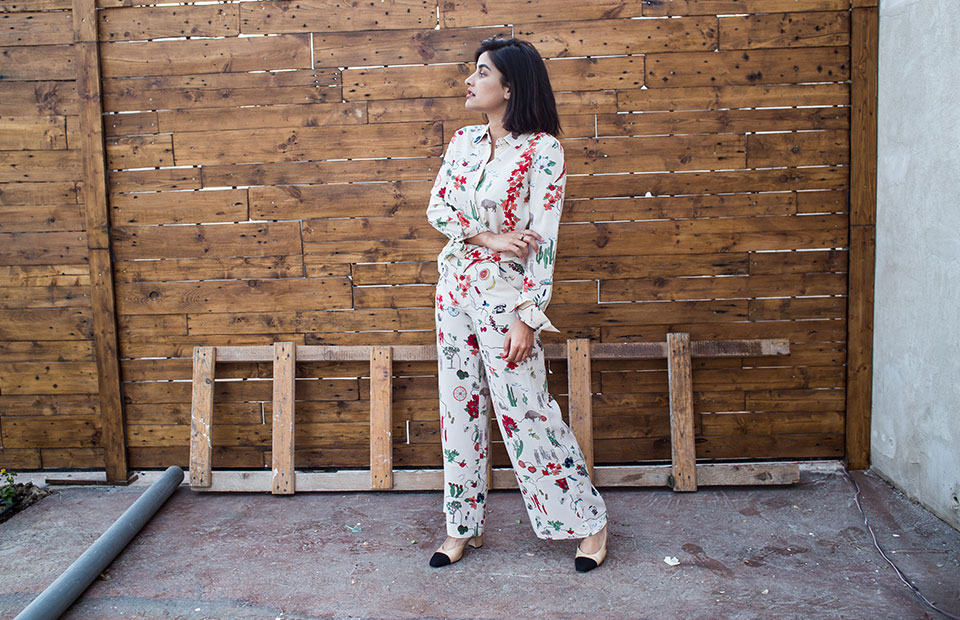 "I hope and strive that women in Doha continue the pursuit of individuality," says Desert Mannequin blogger Anum Bashir. "It's so important to find your own identity through the sartorial choices we make." Here wearing Tory's silk shirt and silk carpenter pant, the Doha-based creative director, stylist and Style.com Arabia contributor — who also works at the Fire Station Artist in Residence program under Qatar Museums — tells us more about the homegrown style and shares her own tips and tricks to looking chic.
My very first fashion obsession…
A pair of my mom's Ferragamo shoes! They'd still look fabulous today.
Best style advice received…
"You look cool!" But for advice and inspiration I simply turn to women whose style I adore. If she's laid-back and effortless, I'm looking to her for questions.
My style icons…
Caroline de Maigret, Tilda Swinton, Cate Blanchett, Loulou de la Falaise and while Mona Hattoum might not be a fashion personality, her art and work is an immense amount of inspiration to me and how I dress.
My personal styling tricks…
Contrast and juxtaposition. If I'm wearing something feminine i'll balance it with something a little more masculine and dressed down. A floral dress with a biker jacket, if you will. I'm a sucker for white button-downs and will wear them with almost anything. I think I own about 10 white tailored shirts.
And when it comes to accessories…
I'm a recent clutch convert thanks to Nathalie Trad. I also love what Olympia Le Tan does. I'm big on handbags, shoes and fine jewelry. Those tend to be my go-to in order to amp up the ante when it comes to an outfit, day or night. For fine jewelry, my staples are delicate pieces that mean a lot to me — each one has its own story. Shoes are where I have the most fun! It's all about footwear recently for me.
Qatar style is…
Evolving every day. Women are increasingly willing to take a risk and dabble in new designers who are doing something a little more off-kilter. I hope this trend only continues to grow. I'm on a mission to break the homogeneity in the region. It's only a matter of time before our city's streets rival those around the world.
The quintessential item in every Qatari wardrobe…
In my opinion, I'd encourage every girl to invest in a very cool linen abaya that could pass as a coat.
Packing essentials for a trip here…
A nice pair of jeans that flatter, a white button-down, a classic blazer, a cool statement choker or earrings, black trousers (I'll let you choose whether they should be palazzos, cropped, straight leg, etc.) and a red lip!
One thing you'd be surprised to know about Qatar style…
Women are looking for something new. They're slowly trying to stand out. They just want to be cool.