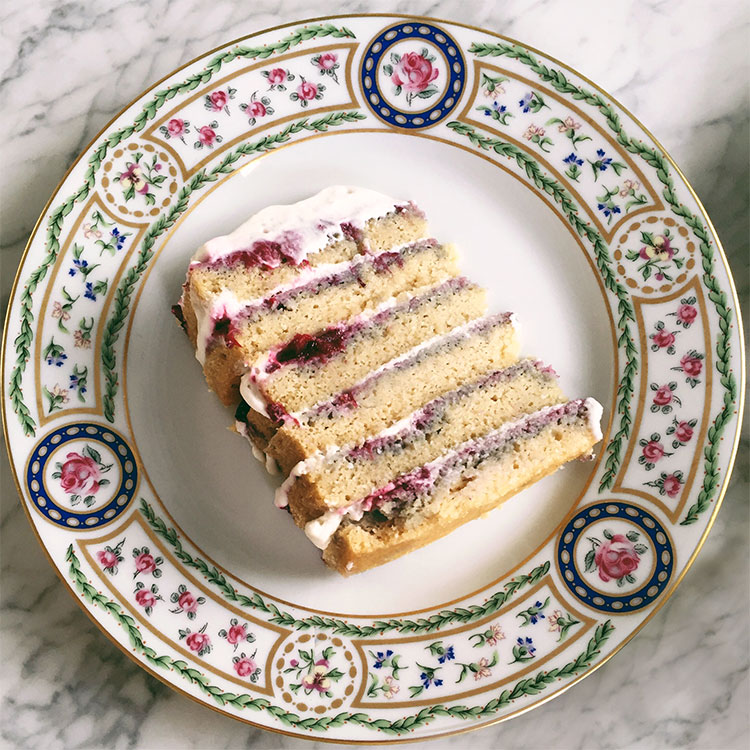 When you hear the words paleo, gluten-free, refined sugar-free, dairy-free and dessert uttered in the same breath, do you feel like you're in the middle of some millennial nightmare? Picturing something dry and potentially tasteless? Then we're happy to introduce you to Laurel Gallucci and Claire Thomas, the girls behind Sweet Laurel, who promise, with 72-hours notice, to satisfy a sweet tooth located anywhere in greater L.A. with a custom cake delivered to your door. We're talking vanilla coconut jam cake, carrot cake with probiotic cream cheese frosting and chocolate caramel layer cake — certainly doesn't sound like suffering to us. And the best thing about this bakery? These irresistible confections — decorated with fresh, edible flowers — are guaranteed not only to appeal to your sense of taste but also your sense of aesthetics. Sweet Laurel: proof that delicious, chic and healthy can co-exist happily in one bite. Here, we talk to Gallucci.
I decided to launch Sweet Laurel Bakery because…
I was diagnosed with a crippling autoimmune disease that caused my thyroid, digestion and hormones to go for a wild ride. One day I decided I had enough and wanted to heal through food, instead being reliant on synthetic hormones and digestion aides the rest of my life. I found a naturopathic doctor who put me on a strict paleo diet. After a few months, I started to look and feel better. I also began creating delicious paleo-friendly foods for my family. They were super into it, and so was my good friend Claire Thomas, who is now my business partner. Together we decided to start a bakery dedicated to creating delicious food that was both healing and flavorful!
We create…
The best organic, grain-free, refined sugar-free and dairy-free baked goods that are indulgent yet healthful.
Next recipe I'm tackling…
Sweet: Paleo cannolis. Savory: gluten-/grain-/dairy-free chicken pot pie.
Favorite summer dessert…
Our waffle cones with dairy-free ice cream. P.S: Recipe on our blog www.blog.sweetlaurel.com.
Favorite ice cream spot in town…
Kippy's! Ice Cream in Venice. Raw and vegan, sweetened with honey.
And my favorite flavor is…
Double dark chocolate.
For a sunset cocktail, I head to…
I'm so boring and can't drink alcohol. However, my favorite restaurant is definitely The Ivy!
My summer BBQ tablescape…
I'm super into gingham napkins and simple florals at the moment.
And summer floral arrangement…
Organic roses and peonies in whites and blush pinks.
And summer playlist…
Oh my — so depends on my mood. Sometimes all I want is classical, sometimes I'm in the mood for silence. It really depends!
And go-to summer look…
I'm that girl. Always in a onesie.
My perfect L.A. day…
Down at the beach with friends and family.
And dream vacation…
Greek islands with my amazing husband, Nick.

Follow Sweet Laurel on Instagram.
Read more features from our Entertaining Issues, past and present.