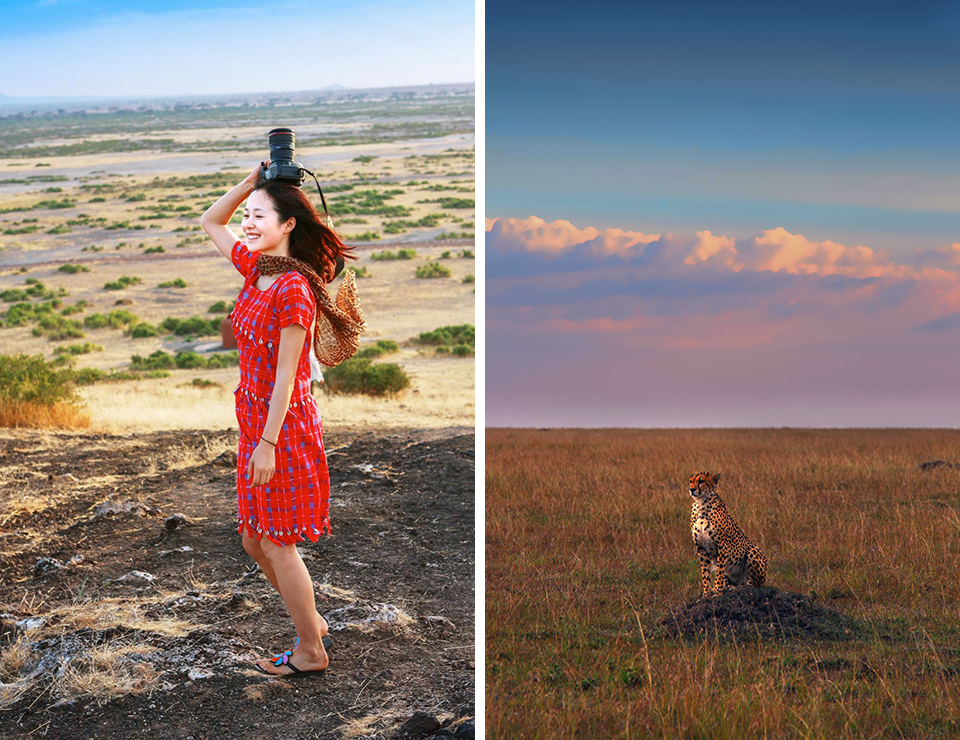 Jiang Yiyan shines behind the camera as much as she does in front of it. The Chinese actress, who was a torchbearer for the Rio Olympic flame on its trip to Iguaçu, has made waves as a talented lenswoman, and even nabbed a National Geographic Photography Award last year. She's beloved in her native China for all of the above — plus her philanthropic endeavors in the remote, impoverished mountain villages of the Guangxi region. Those passions converged this summer with Love, a Shanghai exhibit featuring photographs from her trips around the world, from filming sessions in Tibet to her volunteer days in the Guangxi. We get to know her here.
I first picked up a camera when…
I was very young, perhaps when I was around five years old? My mum was a landscape/garden photographer, and so she would leave her leftover film for me to use. But the first time I took a photo for real was when I was studying at the Beijing Dance Academy. At that time, I made my debut as a singer and, with that first paycheck, I bought myself a camera. That first photo was that of an abstract tree; I was obsessed with nature and all its wonders.
When shooting a subject or moment, I try to find…
A first feeling, the first impression or the story it is trying to tell.
One thing my photographs have in common…
These images are all centered on the idea of love — the love of nature, the love of a mother, the love for the world and humanity.
Favorite place to shoot…
I loved Africa and the primitive forests there. I felt that it was very welcoming and very freeing. It was like finding home, returning to the origins… It transported me to a very soulful place.
My most memorable shoot…
The most unforgettable experience is still the one I spent shooting these "mountain kids." I was a volunteer teacher in a school then and, through the lens, you could capture the smiles of these children, but you could also see their solitude, their perseverance. These images somehow bring about emotions that move me to want to go back, visit them and show them that I care…
Life in front of the camera vs. behind it…
As an actor, everyone is watching you — this feeling of being observed is how you feel when you're onstage. I love being a photographer — hiding in the crowd and observing the world. It is quiet, you are undisturbed. This also makes you reflect better as an actor.
The backstory behind my volunteer work…
I chanced upon a place in Guangxi called Bama when I was shooting for a film. There, I saw the destitution and the loneliness of children who were left behind — yet what impressed me most was their grit, their strength. In retrospect, they taught me more than I could ever imagine.
Why spend eight years doing this? Because you continuously learn and continuously change for the better and you adapt. You asked if there was any special reasons — simply put, I just wanted to do it. Every year, I loved spending my holidays there, because I felt I could somehow give back. I loved it there. There, you are just their teacher; you are not a celebrity, you are no one special.
And what I do in Guangxi…
A couple of years back, I would go to conduct class on my own, organize a sports meet, sing and dance with them as well as donate many goods and material things. Then, as you get to understand them a little bit more, going to their homes, following them as they gradually grow up… you realize that, actually, these were not enough, and they were certainly not the most important. Hence gradually I am thinking about starting a foundation; this can help ensure that they have access to an education.
Before, I went there to teach these children. But now, I also want to nurture the village teachers, for their betterment. This year, I chose some children who are artistically inclined and gifted and I helped craft a 10-year training program for them, until they finish their training at the art university.
One anecdote from my time there…
There was countless moving moments. Every time I volunteer to teach in the village, I always do house visits. I try to understand the daily routine and the life of these villages, young or old.
There was this old man who lived all alone, he was single and had no children of his own. In this small, traditional village, he was also ostracized because, on one hand, he had six fingers. One day, I visited to gift him with a small backpack. He danced round and round like a child and had tears in his eyes. This moment really touched me — it made me think that we can support each other and give each other strength with the smallest of gestures.
Soon after, he stretched out his arm towards me and opened his palm. In it was a tiny snail. I guess this snail was special to him and he allowed me to photograph it. His trust in me made me catch my breath…
This old man has since passed, but his spirit, his smile and his joy then and that moment will remain a lesson that will remain with me forever.
Last year when I was teaching there, I was walking back to the dormitory after class when I heard a young man riding a motorcycle yell out my name: "Teacher Jiang!" For a moment, I was too surprised to remember him. He said, "Don't you remember me, I am so and so from this class…" When I taught him, he was so little. Now he is so tall! These serendipitous greetings are the best kind. Maybe we both don't really recall the faces back in time, but the thought that I once played some role in his life gives me a warm and satisfying feeling.