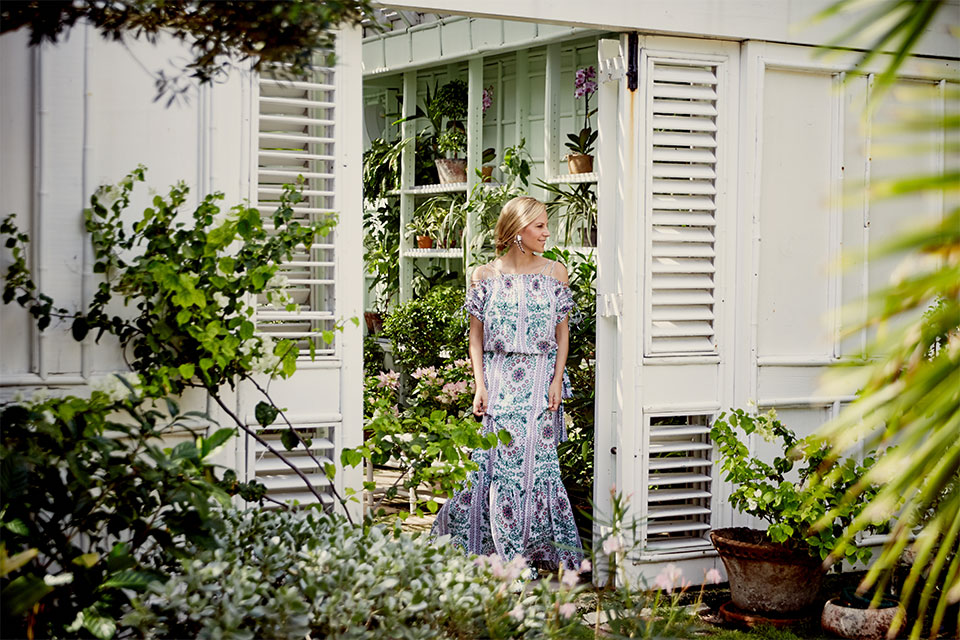 Wearing the Asilomar dress, Tory talks to us about Spring 2017's new floral collection.
What inspired Spring 2017's botanicals?
For Spring 2017, we looked at the mix of East Coast prep and West Coast surf and how those played off each other. Part of the East Coast vibe is this big Sixties hostess look that I have always loved — bold, colorful florals with personality.
What do you love about hostess style?
It reminds me of my grandmother and mother. They were and are the consummate hostesses — always put-together and elegant but not in a way that was not so overly done their guests felt intimidated. Getting right out of the pool, my mother Reva could throw on a beautiful tunic or dress, put her hair up loosely and…perfect.
How do spring's florals speak to the great hostesses?
We pumped a lot of color, especially pink and green, into our florals to capture the glamour of Sixties garden parties along the East Coast. It's a rich, verdant green and a poppy, cheerful pink. And of course, pink and green are an iconic prep pair, but we did them so vibrantly, it goes beyond preppy. And the silhouettes, updated for modern dressing, recall Sixties silhouettes, like a great ball skirt with large-scale painterly flowers that's lightweight or long breezy gowns tied at the shoulder.
What is your favorite flower?
There are too many to choose just one. Peonies, garden roses, parrot tulips, delphiniums, hydrangeas, lilacs….
Do you garden?
Yes! I spend hours in my garden — and it's not just flowers. We grow vegetables and herbs that we use in the kitchen! I can clear my head and do some of my best brainstorming out in the garden, cutting and pruning. I must have learned it when I was young. My mom had an organic garden at our home in Valley Forge, and she would have me out yanking weeds while she seeded and clipped.