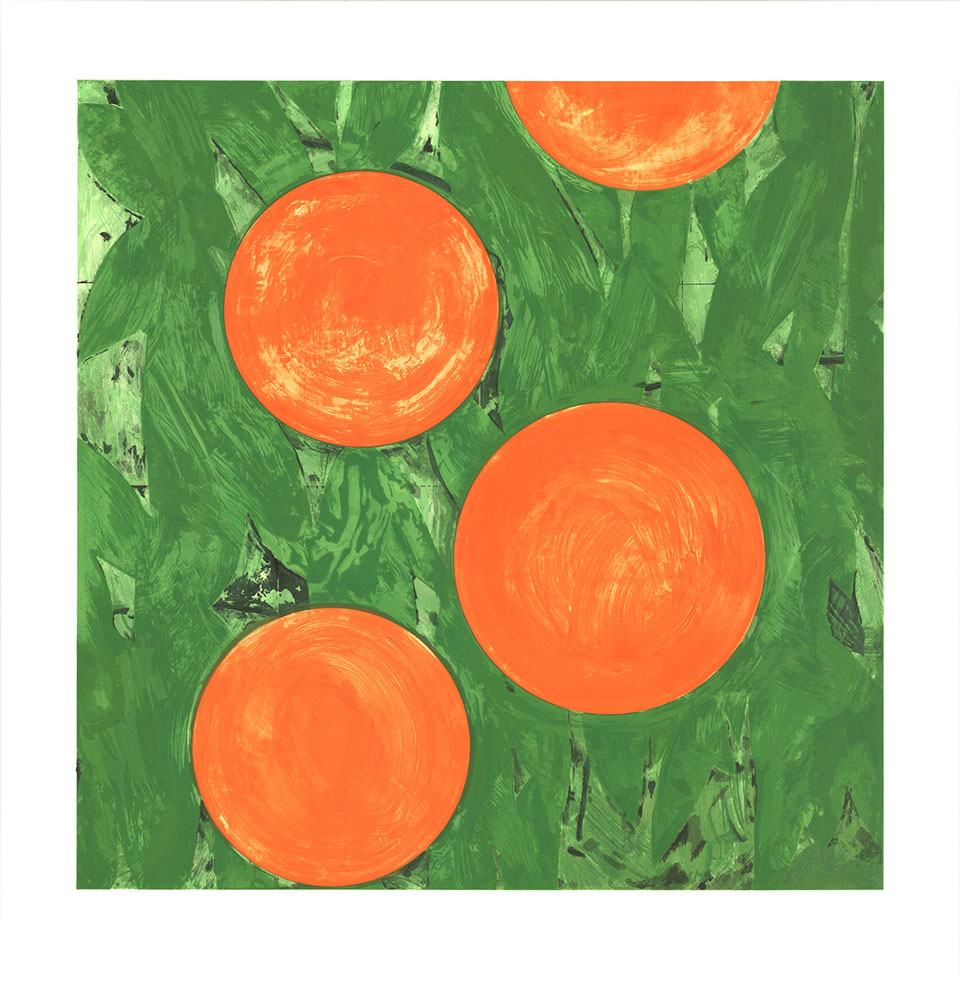 Take a good hard look at the painting above. Would it surprise you to know that those geometric figures are meant to be oranges? Probably not. But this next revelation will likely take you off guard: The wonderfully vivid and vibrant piece, with its amped-up colors, is made from actual black tar and spackle.
Flipping scripts like this is Donald Sultan's MO. The North Carolina-born, New York-based artist is legendary for his use of industrial materials, which traces back to his father, who owned a tire company. Sultan came into prominence in the Seventies as part of New York's downtown art scene and has been making waves ever since, with works in the permanent collections of top-tier institutions: the Museum of Modern Art, the Whitney, the Guggenheim, the Tate Modern, Centre Georges Pompidou…. Here, we gets to know Sultan, one on one.
My very first art love…
Pollock. I was young — my father, who was sort of a Sunday painter — had a picture of his work in the basement. He had taken a Life magazine photo of a Pollock painting and put it up on the wall. I thought it was astonishing, just an incredible way of thinking about art. I never stopped thinking about art like that.
The turning point in my career…
When I made the first tile painting. I had been working in a gallery in New York and trying to find a way to make paintings that were physical. I wasn't sure what to use. I had tried using oil paint and then sanding it — but it was still more or less an illustration rather than an object. As I was leaving the gallery one day, there were some men working in the elevator, putting linoleum down. I asked them about it. They told me if you heat it up, it gets soft. So they gave me a couple pieces, I went home, put the tiles on the stove and began cutting. It was one of those eureka moments.
The materials I use…
Linoleum and tar, even with this orange painting — I tarred the panels. The oranges and leaves were cut out and filled with plaster. They're washed with turpentine and the tar kind of dissolves and brings out the oranges.
The inspiration behind my fruit series…
I was doing industrial images — smokestacks, fire — then tulips that were black and charred, almost like soot but made with charcoal. One day I was at the Metropolitan Museum of Art and saw a little painting by Manet of a lemon; the friend I was with said it looked like my tulip heads without the stems. So I painted black lemons. I started thinking of bringing back the three major themes of painting, which were pretty much non-existent in the mid-Seventies: florals, landscape and still life. I had the tulips and I had the landscapes — my industrial scenes — and began doing more still lifes.
About my love of large-scale works…
I want the still lifes to be, more or less, sculptural and have their own weight. It's a sense of weight rather than a sense of illustration.
When I get the artist's equivalent of writer's block…
You can't have that; there's no such thing. You just have to keep working through it. Everything has its progression. Paintings, they're linear — one thing comes after the other.
Favorite room in a museum…
Well, it shifts. One of my favorite paintings these days is the Joshua Reynolds painting of the lords and the dog at the Met. I just love it.
My latest series…
Well, every time you work on something, it leads you to the next thing. At the end of the Nineties, I was doing large drippy flowers and used flocking for a soft center. Then I started experimenting with making a flower look like a button and sanded down the paint so it looked like glued vinyl, totally artificial. Now, I've started putting the flowers on top of master paintings — or the idea of master paintings, like Mondrian's Broadway Boogie-Woogie. I'm also thinking of revisiting some of my disasters works but in a different way…
A great work of art should…
Never cease to give the viewer an education.