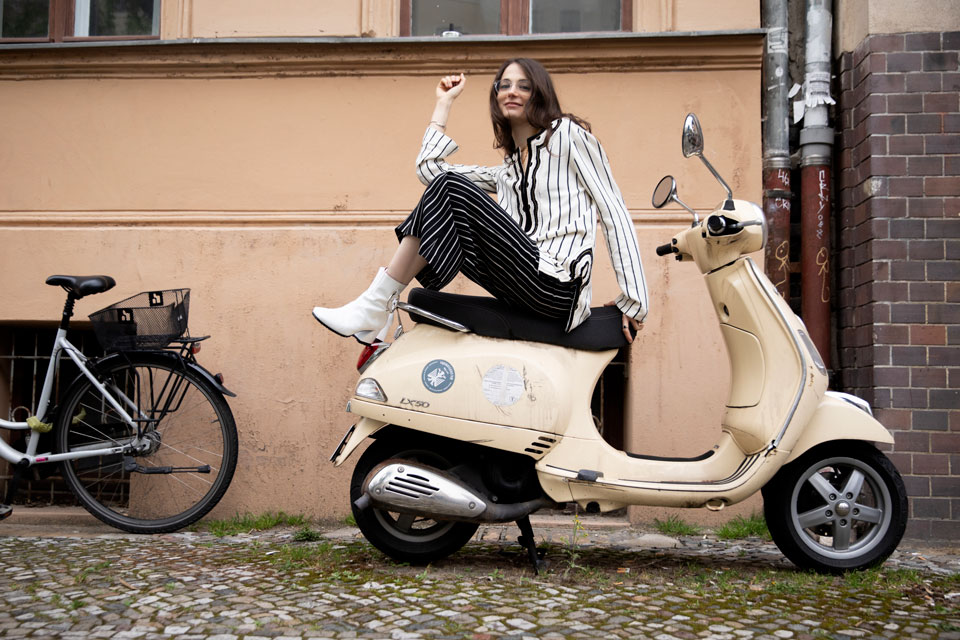 When a city calls, you listen. Former New Yorker Gillian Sagansky, who does double duty as a DJ and contributing editor at W magazine, set her sights on Berlin and never looked back. Here, Sagansky gives us the scoop on the city's urban-cool style.
I moved to Berlin because…
I first came to Berlin six years ago to study German philosophy during college but was equally motivated by rumors that Berlin was this chaotic countercultural dreamland reminiscent of New York in the Seventies. I was immediately transfixed by this sprawling, historically complex, gritty place. It was the one city I couldn't figure out but also couldn't seem to shake. I returned a couple of times over the years, then one day, I decided to roll the dice, hope for doubles, and make the move. I packed my bags, wrangled a visa, and moved here a year ago without really knowing anyone. I always admired people who survived and thrived here and I wanted to be one of them.
What I love about it…
No one judges you here, and no one cares about what you do for a living. I feel this unbridled sense of freedom and anonymity — anything goes and anything is possible. Also, the energy is infectious. As a united Post-Soviet city, it's not even 30 years old, so it's still in the midst of finding its own beat and voice, and I feel so lucky that I get to be a part of the process. Also, as a DJ, the electronic/techno scene is through the roof, if you will. From Berghain to low-key nights at my friends' flats, I find myself Shazaaming my way through the weekend.
Berlin style is…
Anything you want it to be. From track pants to sequins to bondage. Sometimes all together, because why not? Sartorially speaking, it's the most eccentric city I've been to. You'll see a girl style a shift dress with six-inch fluorescent creepers that she'll pair with a floral tablecloth-inspired jacket from the Eighties. Also black! So much black.
The quintessential items in every Berlin wardrobe…
Track pants and sneakers. Dressing up is not really a thing here.
Movie that shows Berlin style the best…
Some uber-sassy cocktail that is one parts Edward Scissorhands, two parts Factory Girl with a twist of The Fifth Element, and garnished with Ulrike Ottinger's Ticket of No Return, in which the Berlin-based protagonist wears head-to-toe monochrome and lace facial masks. Shaken and stirred.
My personal styling trick…
My uniform: boots and black jeans.
And when it comes to accessories…
Jewelry with meaning. The best part about living in Europe are those 20-euro EasyJet flights to Bosnia or Slovakia. I've always had a hard time staying in one place for very long, so I find myself on a plane at least twice a month and collect a piece of jewelry wherever I go. My bling of the moment includes a gold woven chain I bought on a recent trip to Bangalore, an onyx ring I picked up in Lisbon, and a silver coin necklace I found at a flea market in Bulgaria. Besides jewelry, my mom's black fedora from the Seventies has become a part of me. She gave it to me when I was 16, and I swear this thing is indestructible. It has been crushed flat in overhead airplane compartments and completely soaked in rainstorms, but even my mom will say it looks the exact same as the day she gave it to me. It's the gift that keeps on giving!
Follow Gillian Sagansky on Instagram.
#ToryDaily #ToryStories