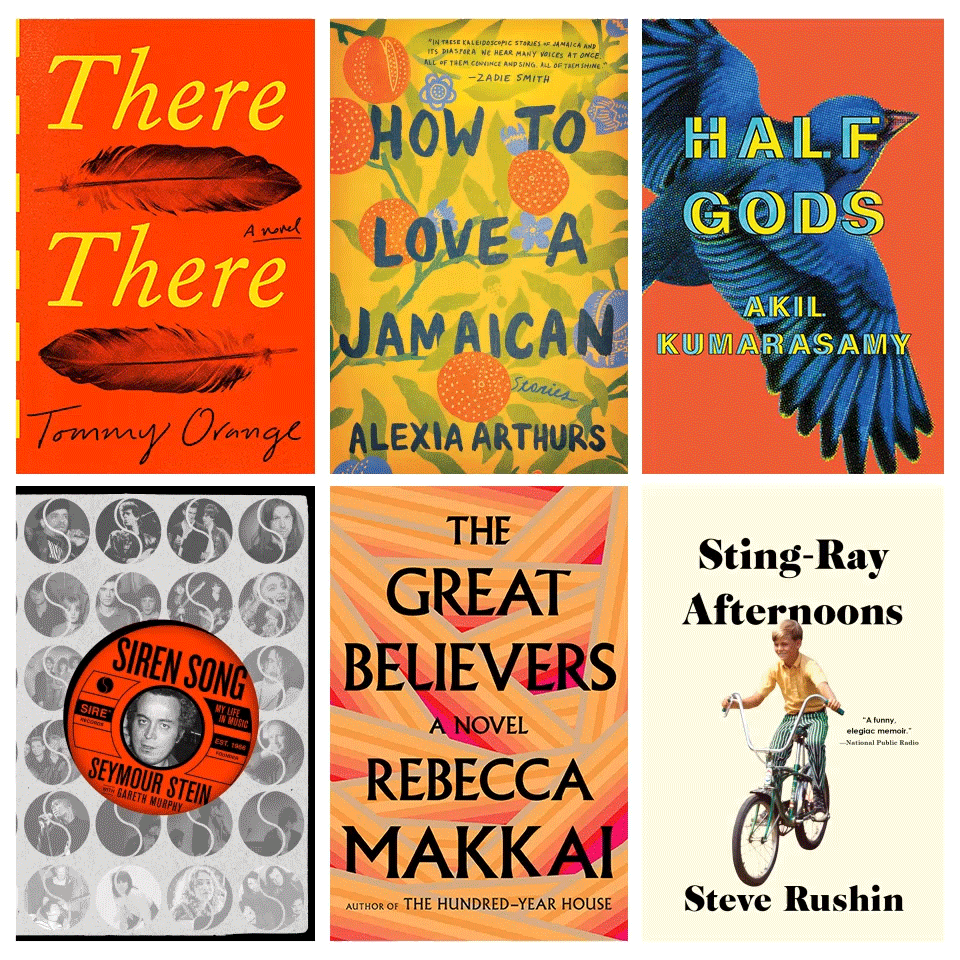 More reading recommendations from the Tory Daily editors… To see the first batch of summer favorites, click here.
STING-RAY AFTERNOONS BY STEVE RUSHIN
Anyone who grew up in the Seventies is going to feel the warm flush of nostalgia reading Steve Rushin's memoir, Sting-Ray Afternoons, not unlike Proust in In Search of Lost Time — except instead of madeleines, we're talking Schwinn bicycles, 8-tracks and Hertz donuts. Rather than focusing on his career in sports journalism, the Sports Illustrated writer zeroes in on his sun-faded youth growing up in suburban Minneapolis. There are no starry cameos here, no clinging to big-league world events, but the book charms all the same — there's comfort in the everyday and the familiar. Bonus: Rushin serves up some history with the memories, offering background on the decade's It brands, from Nerf and Bic to Romper Room.
You'll love this book if…
Your version of the Seventies is less Studio 54 and more Country Squire station wagons. You understood the donuts reference above. (Pro tip: Always decline the Hertz donut lest you receive a punch and then: "Hurts, don't it?")
THERE THERE BY TOMMY ORANGE
This summer is rife with terrific reads that explore the nebulous terrain that is immigrant identity, many featured in this Book Issue. But Tommy Orange's There There, an incisive gaze on that labyrinthine experience for urban Indians, A.K.A. Native Americans, inhabits a space of its own. Exquisitely written, the book revolves around 12 characters heading to a powwow in Oakland, California, and isn't afraid to tackle the hard stuff, pouring salt on issues like abuse, alcoholism, rape, drugs and violence. "A gripping deep dive," tweeted Margaret Atwood, "an astonishing literary debut." And she's right — There There is absolutely masterful.
You'll love this book if…
You know that it's not a contradiction to say you both belong and don't belong.
HALF GODS BY AKIL KUMARASAMY
The devastating Sri Lankan Civil War is at the center of Akil Kumarasamy's outstanding debut, a collection of interconnected short stories that traces the lives of one Tamil family. Half Gods is a multigenerational affair, zigzagging the reader across shifting times and perspectives, from Sri Lanka to New Jersey — where patriarch Muthu has relocated with his daughter, after his wife and sons are murdered by a mob — and back. There's a scene in which Muthu is at the U.S. embassy in India, seeking asylum. Holding his daughter's hand, he tells the immigration officer he's lost everything. "My thirteen-year-old daughter is all I have left," he says. The officer's response: "You need to be more specific." Kumarasamy beautifully captures the gutting sense of loss and displacement. Given the political climate today, Half Gods resonates all the more.
You'll love this book if…
You embrace getting your heart broken by books. You know what it's like to be exiled and estranged. You're familiar with the cocktail of emotions of the immigrant experience.
SIREN SONG BY SEYMOUR STEIN WITH GARETH MURPHY
Siren Song should be required reading for any hardcore music buff. It's the memoir of Seymour Stein, the co-founder of Sire Records, whose influence looms large over rock-and-roll history. He's been instrumental in bringing us everyone from the Ramones, Talking Heads and the Pretenders to Ice-T, the Smiths and the Material Girl herself. Love New Wave? You have Stein to thank for that, too — a pioneer in the genre, he coined the term. Siren Song is a fun romp, full of entertaining stories about today's music icons. Like when he first met Madonna, unsigned and unknown, while he was in the hospital for chest pains. Or spent Thanksgiving with Elton John. Or hit up Mardi Gras in Trinidad with David Byrne. Stein takes you behind the velvet rope, and more.
You'll love this book if…
You can name all the members of The Smiths, The Cult, The Cure and The Replacements. You remember Ice-T, pre-Law & Order: SVU.
THE GREAT BELIEVERS BY REBECCA MAKKAI
Rebecca Makkai sets her novel, The Great Believers, in Chicago during the Eighties AIDS epidemic. It opens with the memorial of a young man who succumbed, Nico, before refocusing on his circle of gay friends, especially an art gallerist by the name of Yale. But as intimately as Makkai leans into this grim period of our history, she also augments the tale with other narrative strands. Yale, for instance, is chasing after a valuable art collection from a former model for big-name artists in Paris. Makkai also throws the reader into the future, to 2015, as she follows Nico's younger sister, Fiona, as she heads to the City of Light to search for her daughter. The story toggles deftly between the two, as we discover who survives and the weight they carry.
You'll love this book if…
You lived through the harrowing years of the AIDS crisis, and know that loss lingers.
HOW TO LOVE A JAMAICAN BY ALEXIA ARTHURS
Here's another great book that nimbly navigates the complicated contours of identity. In a series of short stories, some previously published in literary magazines, Alexia Arthurs explores what it means to be Jamaican. One tale turns that notion of belonging in on itself when a Brooklyn-based Jamaican native heads back home — and isn't accepted because she's queer. In another, two women of Jamaican heritage meet in college — Kimberly assumes they'll be friends based on a shared background, Cecilia isn't quite so game. The title here? "Light-Skinned Girls and Kelly Rowlands."
You'll love this book if…
Mangoes, callaloo and oxtail gravy are giving you a serious case of nostalgia.