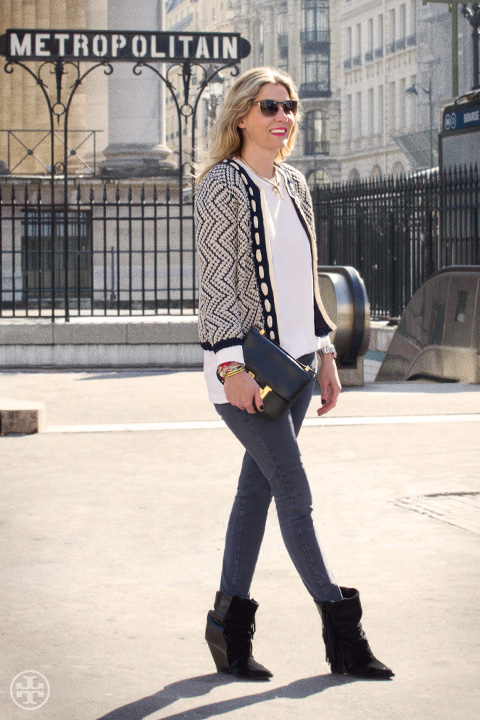 The Fashion Director of Le nouvel Observateur and contributor at Obsession talks about French fashion and the City of Light.
My back story is…
I'm British but spent my early childhood in Africa. I have lived in Paris for the last 30 years where I went to the American school and then spent three years at university in London. Through my mother I met Joan Juliet Buck and worked at French Vogue for five years. Then I went on to create the fashion pages of the weekly
Le nouvel Observateur.
If not a fashion editor…
My dream would have been to run a hotel like Santa Caterina on the Amalfi Coast. It's a magical place not so much because of its prime location, stunning views and extreme luxury, but because of the magic it brings you
while you're there.
My style is…
Easy chic with a touch of rock.
My personal styling trick…
You can wear high-street fashion as long as you mix it with a designer coat, shoe or bag.
Here I'm wearing…
Tory's Neveah cardigan, Acquaverde jeans, American Apparel shirt, Isabel Marant boots, vintage Hermès bag and
Aurélie Bidermann necklace.
Emerging French designers to watch…
Bouchra Jarrar and Julien David.
The film that shows French style at its best…
Catherine Deneuve in Belle de Jour.
And one thing every French woman has in her wardrobe…
A pair of pumps.
My obsessions, in fashion and out…
Alex Prager's photography and anything from Céline.
One Paris secret only an insider would know…
If I tell you, it's not a secret anymore….
And one thing you can only find in Paris…
Parisians. We love them and hate them at the same time.