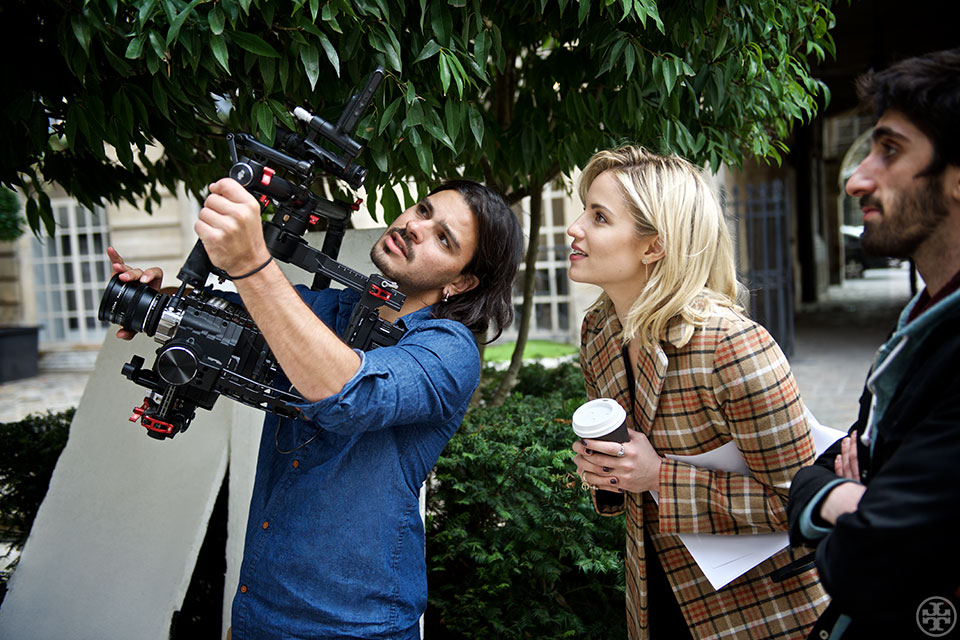 You may know her as Quinn Fabray in Glee or as Robert De Niro's daughter in The Family, but actress Dianna Agron is pretty skilled as a director, too. She went behind the camera for Tory Burch and filmed L'Américaine, starring Margaret Qualley and Tory's new Paris Collection. Here, we talk to her about the experience, her favorite spots in the City of Light and her all-time greatest directing icons.
I got involved with this film because…
It started off as a complete joke. You know, the kind of thing where you say to a friend, I could do a video for you… and then the joke becomes a reality. It was such a happy coincidence.
And the inspiration behind it…
I love old movies. It was what I was bottle-fed on. And An American in Paris is one of my all-time favorite loves. So when I was brainstorming ideas, this one particular scene in that move, the one I drew inspiration from, became the most obvious choice to move forward from, adapt and take shape from there.
Favorite moment in the film…
Every time Margaret laughs. Or giggles. Her infectious joy is something I thrive on. I just love it.
And one fun behind-the-scenes moment from filming…
Every night after filming we were able to have a little moment of Paris. My Paris. My favorite restaurants, spots and whatnot. I am such a Francophile. It never gets old. That was the extra bit of joy. And I say this because every bit of filming (during the day) was a treat and a joy to me. I can never pick a favorite moment of filming because it all is a part of the fabric that is the final project.
Greatest challenge filming…
The time we had and the weather. It was raining, and we had quite a bit of dialogue to shoot outside. But you make do and you figure it out.
Being in front of the camera vs. behind it…
So different. I love them both, equally.
The directing bug first bit when…
I was in high school. I would film my friends and cut together "movies" and they were so appreciative and surprised by the quality. It came naturally and I love it as much as I did then. That begin said, I love each experience as an opportunity to learn more.
My cinematic influences as a director…
Besson. Kubrick. Allen. Burton. The list goes on and on.
My first time in Paris…
I was 20. And I fell in love immediately. I am so grateful for Paris. It consumes you. Challenges you to think about what it is you really love. And what you'll do for it in return.
And the Dianna Agron guide to Paris would include stops at…
La Palette. All of St. Germaine, really. Beaux-Arts, The museums. Random art galleries. The best is to get lost and keep on getting lost.
My favorite piece in the Paris Collection…
I love the feathered collared bits on the shirts. It is the details that get me. Those. And the plaid underbelly of the skirts. No detail is spared.
My personal styling tip…
Don't think too hard, and don't listen to the rules.
Best advice received…
To thine own self be true. What a powerful, wonderful world to be in. When you know what that truly means.
Shop the Paris Collection in the U.S., France, Italy and Germany.
Discover the collection inspiration.
Watch the film L'Américaine.
Read the Q&A with actress Margaret Qualley.
Vous la connaissez peut-être en tant que Quinn Fabray, dans Glee, ou dans le rôle de la fille de Robert De Niro, dans Malavita, mais l'actrice Dianna Agron est également une réalisatrice douée. Pour Tory Burch, elle est passée derrière la caméra et a réalisé L'Américaine, avec Margaret Qualley, pour présenter la nouvelle collection Paris. Nous l'avons rencontrée pour discuter du tournage, de ses adresses parisiennes et de ses réalisateurs préférés.

J'ai été amenée à réaliser ce film parce que…
Cette histoire a commencé sur le ton de la plaisanterie. Vous savez, quand vous dites à un ami, je pourrais réaliser une vidéo pour toi… et la blague devient réalité. Un vrai coup de chance!
J'ai été inspirée par…
J'adore les vieux films. J'ai été biberonnée aux classiques. Un Américain à Paris est l'un de mes films préférés. Quand j'ai cherché des idées, une scène a retenu mon attention. Elle s'est imposée comme une évidence et je l'ai revisitée.
Mon moment préféré dans le film…
À chaque fois que Margaret rit, ou rigole. Sa bonne humeur est contagieuse. J'adore ça.
Mon moment préféré, en coulisses du tournage…
Chaque soir, après le tournage, nous avions un peu de temps pour profiter de Paris. Mon Paris, mes restaurants préférés, mes lieux de prédilection. Je suis 100 % francophile. Je ne me lasserai jamais de cette ville. Donc c'était du bonheur en plus, car chaque moment du tournage était également une joie. Je n'arrive jamais à choisir un moment préféré, car tout se retrouve dans le projet final.
Le principal défi…
Nous avons eu de la pluie, alors que nous avions des scènes à tourner en extérieur. Mais, dans ces cas-là, on improvise et on trouve des solutions.
Être devant ou derrière la caméra…
C'est complètement différent. J'aime autant l'un que l'autre.
J'ai eu envie de passer à la réalisation quand…
Au lycée, je filmais mes amis et je montais des petits « films ». Tout le monde était très surpris par la qualité. C'est venu naturellement, et j'aime toujours autant ça. Je saisis chaque nouvelle occasion pour en apprendre davantage.
Mes influences en tant que réalisatrice…
Besson. Kubrick. Allen. Burton. La liste est longue.
Ma première fois à Paris…
J'avais 20 ans. Je suis tombée amoureuse immédiatement. Je dois tant à Paris. C'est une ville incandescente. Elle me pousse à réfléchir à ce que j'aime vraiment. À ce que je suis prête à faire pour assouvir mes passions.
Les adresses parisiennes de Dianna Agron…
La Palette. Tout le quartier Saint-Germain, en fait. Les Beaux-Arts, les musées, les galeries d'art. L'idéal est de se perdre dans Paris.
Ma pièce préférée de la collection Paris…
J'adore les cols à plumes des chemises. Je suis fascinée par ce genre de détails. Ou la doublure madras des jupes. Rien n'a été laissé au hasard.
Mes conseils en matière de style…
Ne pas trop réfléchir, ne pas suivre les règles.
Meilleur conseil reçu…
Être soi-même. Le monde est merveilleux quand on a compris cela.
Découvrez la collection Paris aux Etats-Unis, en France, en Italie et en Allemagne.
Découvrir l'inspiration la collection.
Regarder le film L'Américaine.
Lire l'interview avec l'actrice Margaret Qualley.