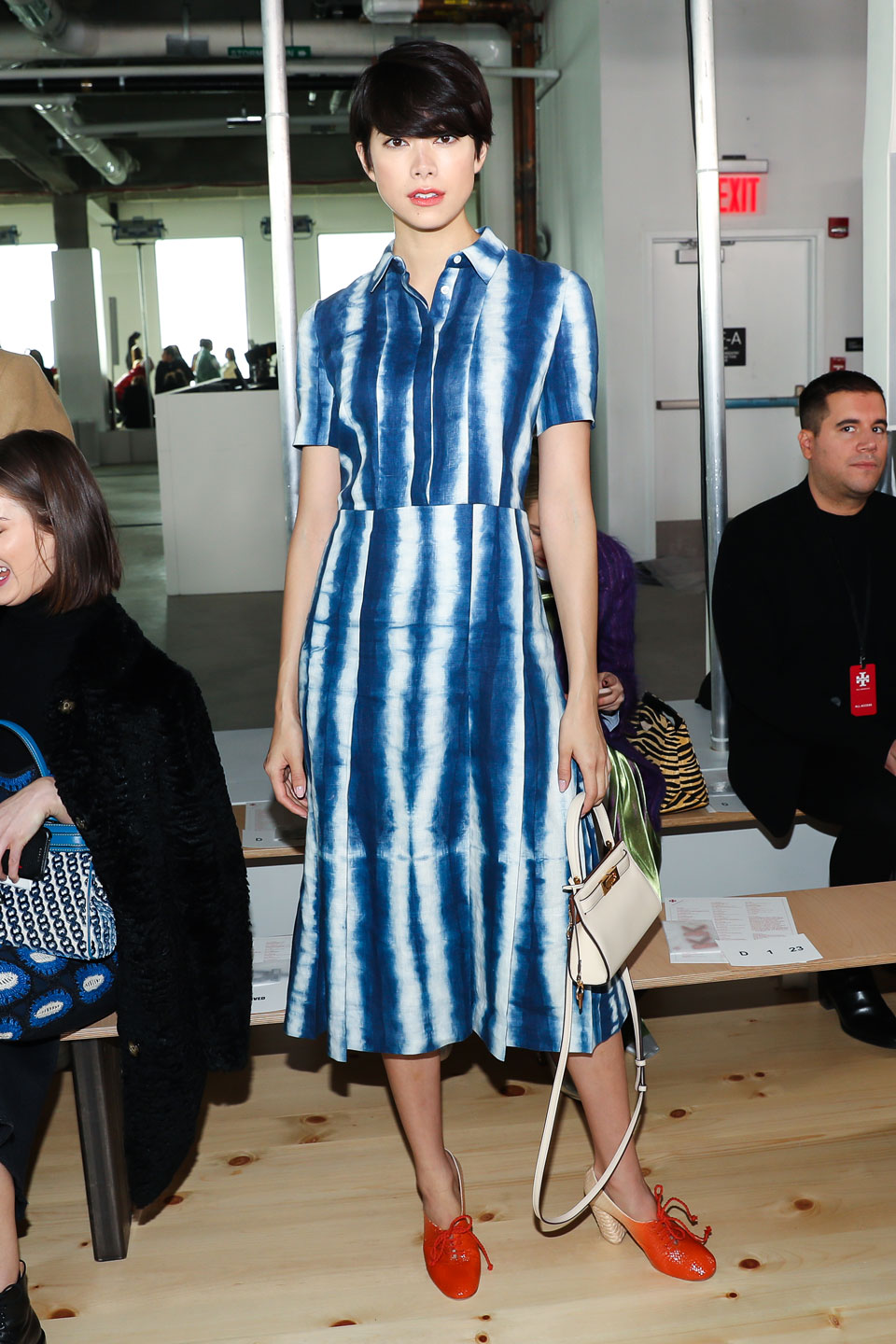 For Hikari Mori, fashion runs deep – her grandmother is the celebrated couturier Hanae Mori (check out the vintage selection of her gowns on 1stdibs.com). It makes perfect sense that this pixie-haired Japanese-American model and actress has an inimitable sense of style. When she's not in front of the camera, she's a regular in the front row on the NewYork/London/Milan/Paris runway circuit as well as events such as the annual Met Gala and Venice Film Festival. We caught up with her at Tory's Fall Winter 2019 show to learn about the secret to great personal style, where she finds inspiration and what's in her carry on bag.
The secret to great personal style is…
There are no rules in fashion so just try everything and have fun.
The person whose style I admire the most is…
Linda Rodin, Iris Apfel and Ilona Royce Smithkin.
I am always finding style inspiration in…
Traveling the world – the colors, patterns and national costumes.
The items you'll always find in my carry-on bag are…
Eye mask, ankle warmers, tea packs, a banana, 2-3 books and moisturizing masks.
The secret to being comfortable in front of the camera is…
Take a deep breath and think of the camera as someone you love.
When I'm not in front of a camera, you can find me…
In my bed!
森星さんにとってファッションとは彼女のなかに深く根付いたもの。彼女の祖母は著名なクチュリエ、森 英恵さん。ピクシーカットが似合う日本とアメリカのハーフで、モデル/女優である彼女には比類ないセンスが光る。彼女は今やニューヨーク、ロンドン、ミラノ、パリのランウェイのフロントローだけでなく、メットガラやヴェネチア国際映画祭など名だたるイベントの常連。トリー バーチのFall Winter 2019ファッションショーに来てくれた彼女が、スタイルの秘密やインスピレーションの源、そしてバッグの中身を教えてくれた。
スタイリングの秘訣は?
ファッションにルールはないと思っていて、どんなものもトライして楽しむことを大事にしています。
スタイルアイコンを教えて?
リンダ・ロダン、アイリス・アプフェル、イロナ・ロイス・スミスキンさんです。
インスピレーションの源は?
旅に出ること。旅先で出会う色やプリント、その土地ならではのコスチュームからインスピレーションを得ています。
機内用バッグに必ず入れているものは?
アイマスク、レッグウォーマー、ティーバッグ、バナナ、2-3冊の本と、保湿マスクです。
カメラの前で自分らしくいる秘訣は?
深呼吸をして、カメラがまるで私の大好きな人かのように思うことかな。
お仕事でないときは、どうしてる?
寝ています!